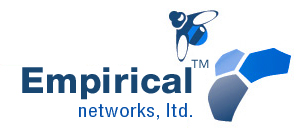 Building and maintaining secure, reliable client networks

At Empirical Networks we build and service client networks, enterprises and needs as we build trust through effective performance. That is, we do the job of monitoring, maintaining and supporting client requirements all day, every day of the year. And client needs vary. While network monitoring and support are common requirements, our engineers are engaged to manage voice access, router and server service, wireless networks, network and data security, and backup and storage to a name the basics. Our range of services is as inclusive as our clients needs.

Client priorities create our benchmarks. Along with remote access, we serve their interests by managing network configurations, firewalls, intrusion detection, e-mail delivery and business continuity. Our service focus is as specific as the structure of clients' networks and enterprises. Client needs--now and in the future--are the critical element our partner agreements. And, our agreements are always structured to assure level payments.

If you use any of the featured IT services shown here, you are eligible to partner with Empirical Networks.

More of Our Services

Managed Voice Access and Networking
Managed Integrated Access
Managed Remote Access
Fault & Performance Management
Configuration Planning & Management
Managed Router Service
Managed Server Service
Managed VPN / IP-VPN
Managed Wireless LAN (WLAN)
Asset Management
Managed Voice Security
Managed Firewall
Managed Intrusion Detection
Vulnerability Scanning